PROvision MDVR-04Real specifications.
Dashboard cameras Specs
<<
PROvision
<< PROvision MDVR-04Real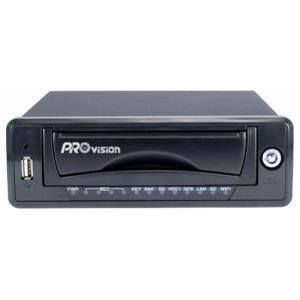 Main characteristics PROvision MDVR-04Real
Design DVR:
without a camera, without the screen
Number of channels recording:
4/2
External cameras:
yes
Installing a hard disk:
yes
Power PROvision MDVR-04Real
Power:
from an onboard network of the car
Connection PROvision MDVR-04Real
Inputs:
video composite x4, audio x2
Number of alarm inputs/outputs:
7/2
Connecting a USB external drive:
yes
Data storage PROvision MDVR-04Real
Memory card support:
SD (SDHC) up to 64 GB
Additionally PROvision MDVR-04Real
Operating temperature:
-20 - +50 C
Storage temperature:
-30 to +70 C
Dimensions (width x height x thickness):
178x50x220 mm
Weight:
2100
Popular today
Design DVR: two camera without screen; Quantity of channels of video recording: 2; Video recording: 640x480 at 30 fps; Recording mode: cyclic; Functions: motion sensor (G-sensor, GPS, motion dete...
The design of the DVR: camera with screen; The number of recording channels video/audio: 1/1; Video recording: 1920x1080; Write mode: cyclic; Function: shock sensor (G-sensor), the motion in the ...